How can I track my items?
To track an item, just go to www.trackandtrace.lu and enter your tracking number.
You'll then see the location of your item.
Examples:
Registered deliveries
RR123456789LU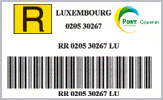 XL and XXL items
CP123456789LU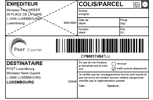 FollowMe labels
LX123456789LU


Do you have any other questions?
Call us free of charge on 8002 8004 or +352 2424 8004 for international calls, Monday to Friday from 8.00 am to 5.00 pm.
Post Offices
Find your closest Post Office.