Have your old phones collected
Don't let your old smartphones gather dust in a drawer! Your phone can be reincarnated. Value it, recycle it, donate it... make a gesture of goodwill to benefit the environment.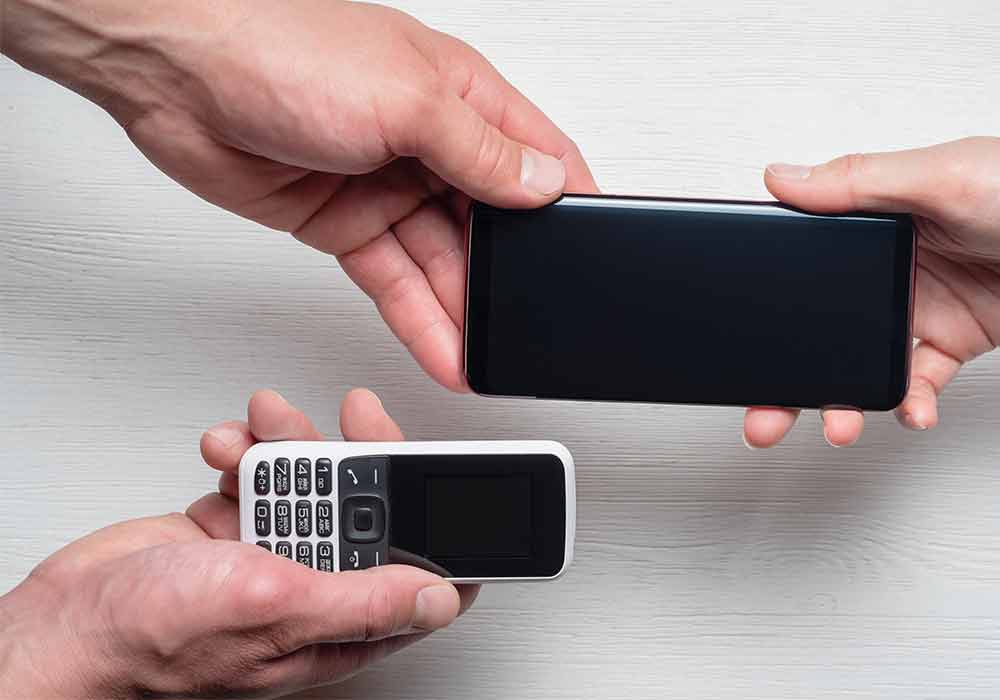 Sell your old phone
With the Mobile BuyBack service, put the value of your phone towards your next purchase.
Donate your phone
Give new life to your phone as an act of kindness, and help protect the environment.
More and more smartphones come off the assembly lines each year. This uses up a considerable amount of energy and fuels demand for rare metals such as gold for the motherboard and cobalt for the battery. Manufacturing a smartphone could account for around three quarters of its environmental footprint, hence the need to make it last.
And while you may no longer need your phone, it could still be used by someone who can't afford one. POST works with different partners to recycle or reuse phones, putting them back on the market or reusing their parts.
The benefits
Donate or sell your smartphone:
a minor act with major impact
Environmental impact
Your smartphone will be reconditioned and reused by someone who cannot afford a new one. Or it will be dismantled, here in Luxembourg, at a workshop for social and professional integration. The parts will be reused in the manufacture of new devices.
Economic impact
Sell your mobile in an Espace POST. You trade in your device and receive a discount on the price of your new phone. This gesture will allow you to save money and extend the life of your smartphone, which others can use too.
Social impact
If it still works, your old phone will be reconditioned. If it no longer works or is damaged, it will be taken apart and its components recycled. To do this, POST works locally with Digital Inclusion and Solina Aarbechtshëllef, as part of the national Mobile Bag collection.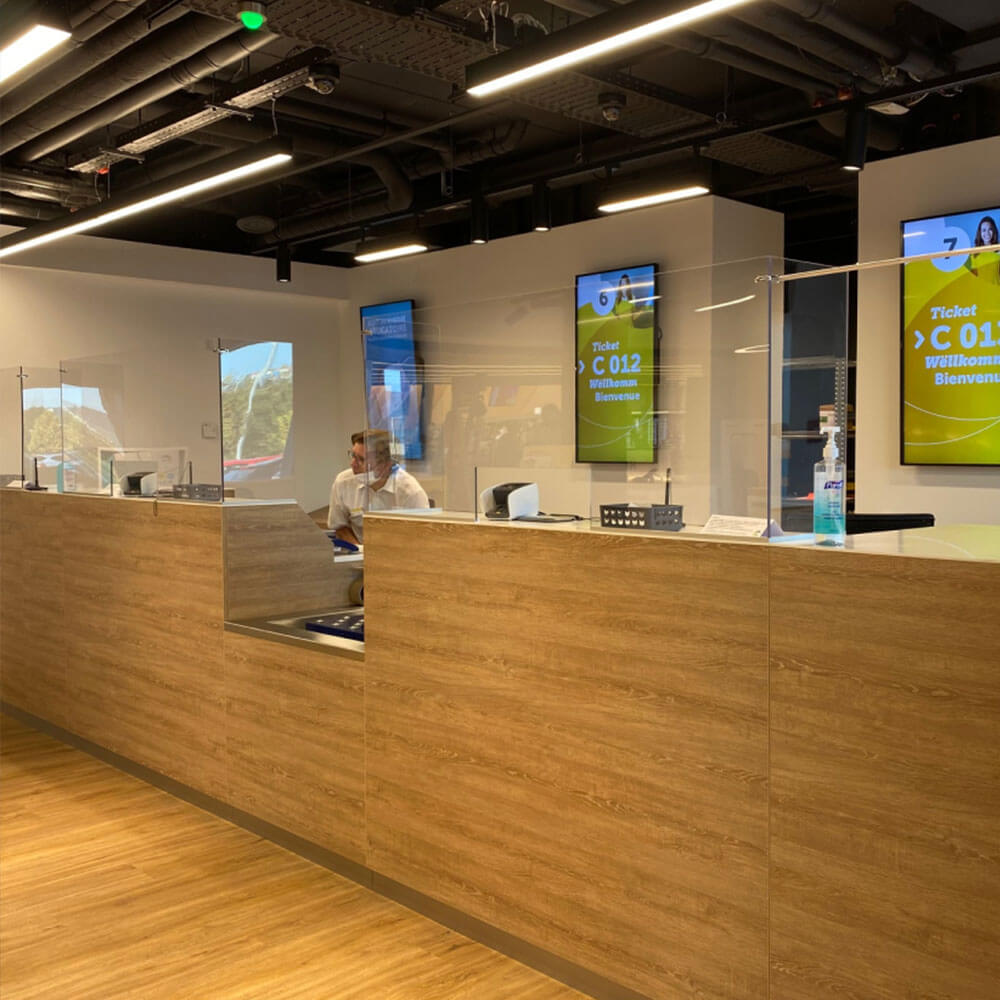 How can I sell my phone?
A few steps is all it takes to use the services of smartphone collecting:
Receive the value of your smartphone

Ask an adviser to calculate the trade-in value of your smartphone.

Choose your new smartphone

Pick out your new smartphone and a 24-month SCOUBIDO plan.

Pay for your purchase

The trade-in value of your old smartphone is deducted from the total amount.
Here's where you can find our different sales outlets:
Espace POST Luxembourg Ville
Espace POST Luxembourg Cloche d'Or
Espace POST Luxembourg Gare
Espace POST Luxembourg Kirchberg
Espace POST Bascharage
Espace POST Belle-Etoile
Espace POST City Concorde
Espace POST Dudelange
Espace POST Esch-sur-Alzette
Espace POST Ettelbruck
Espace POST Junglister
Espace POST Marnach
Espace POST Mersch
Espace POST Remich
Donate your old phone
Take part in the Mobile Bag collection in Luxembourg and make a gesture of goodwill to benefit the environment with POST and its partners, Digital Inclusion and SOLINA Aarbechtshellëf. Over five years, more than 8,000 smartphones have already been collected through the POST network.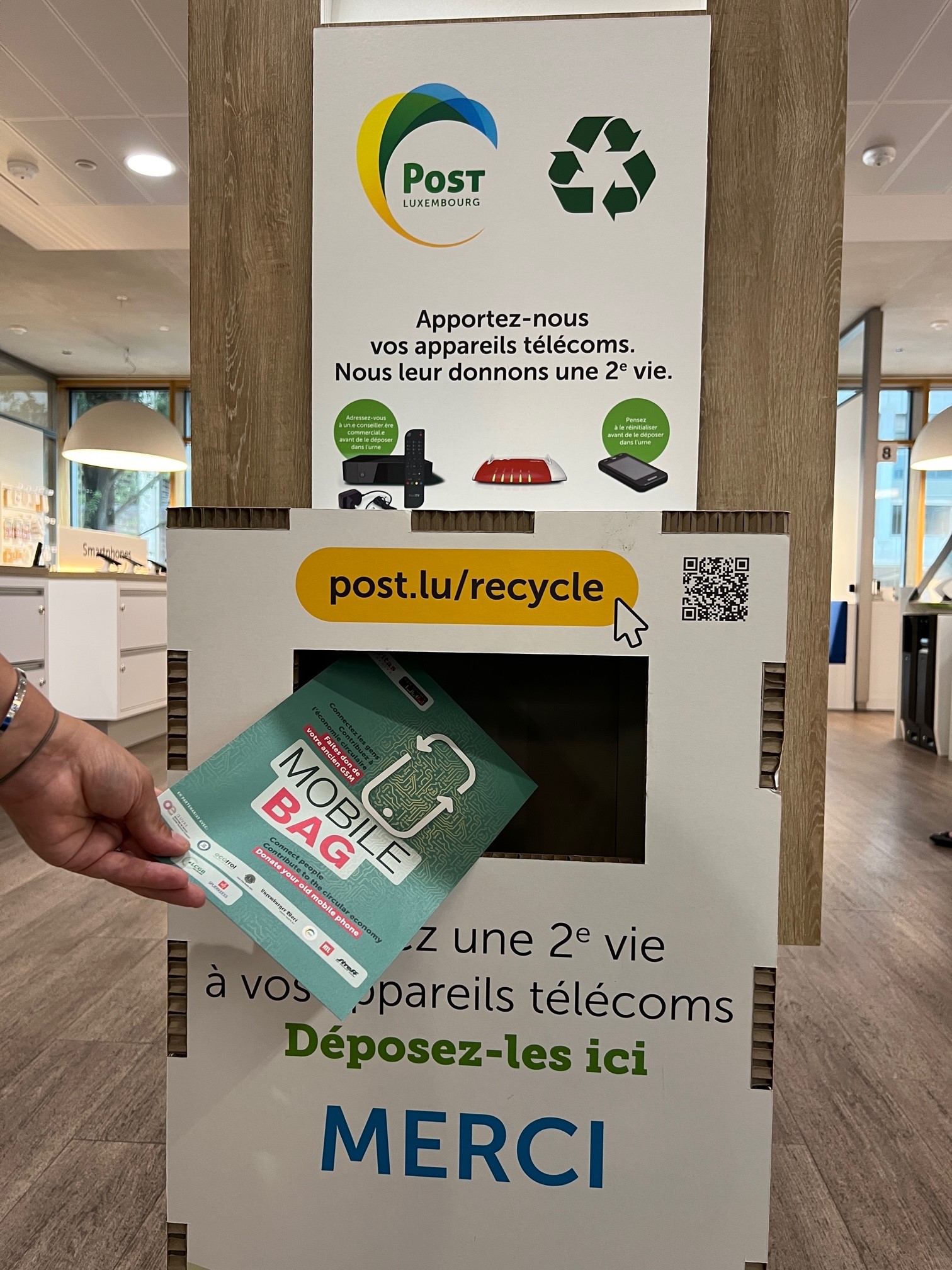 How can I donate my mobile?
A few steps is all it takes:
Remove the SIM card

Make sure you remove your SIM card before donating your mobile.

Reset your mobile

Resetting wipes the phone's data and restores its factory settings before you pass it on.

Drop your mobile into the Mobile Bag

You can give us a phone with or without its charger, even if it has a broken screen or can't be turned on. Please check the FAQ if the battery is damaged.
One handset per bag, which must be sealed.

Drop off your bag

Put the sealed bag into the box at a POST sales outlet or hand it directly to your postal delivery worker.
Answers to your questions
It's less than six years old and still works: Digital Inclusion will refurbish and reset it, then donate it to an individual in need in Luxembourg, chosen with welfare departments, the Red Cross and SOLINA Aarbechtshellëf.
It no longer works / it can't be turned on / its screen is broken / it's too old: it will be sent to the Aarbechtshëllef workshop, which will dismantle it and reuse the parts in the production of new devices or objects. The hard drive containing personal data will be physically and systematically destroyed.
When you trade in your telephone using the POST Mobile BuyBack service, you hand over your smartphone to genuine experts who guarantee that any remaining data is deleted from your device. Plus, you can trade in your smartphone in a POST Telecom shop without having to send your device by post. And you can ask to trade in up to five of your old smartphones for a maximum of €1,000.
You must wipe the data before handing over your electronic devices. This is your responsibility. POST and its partners will not be liable for any loss or misuse of data still held on the device.
During the recycling or refurbishing process, our partners will reset the device and may even destroy the memory card. The device's factory settings will therefore be restored, after which you will no longer be able to recover any data that had been stored on the device.
We take phones as well as all other electronic devices (decoders, cables, accessories, FRITZ!Box, etc.) so they can be recycled or reused. At POST, we take back all telecom devices we sell so that, whenever possible, they can be given a new lease of life. Why wait to bring us your device?
The bags can be picked up free of charge: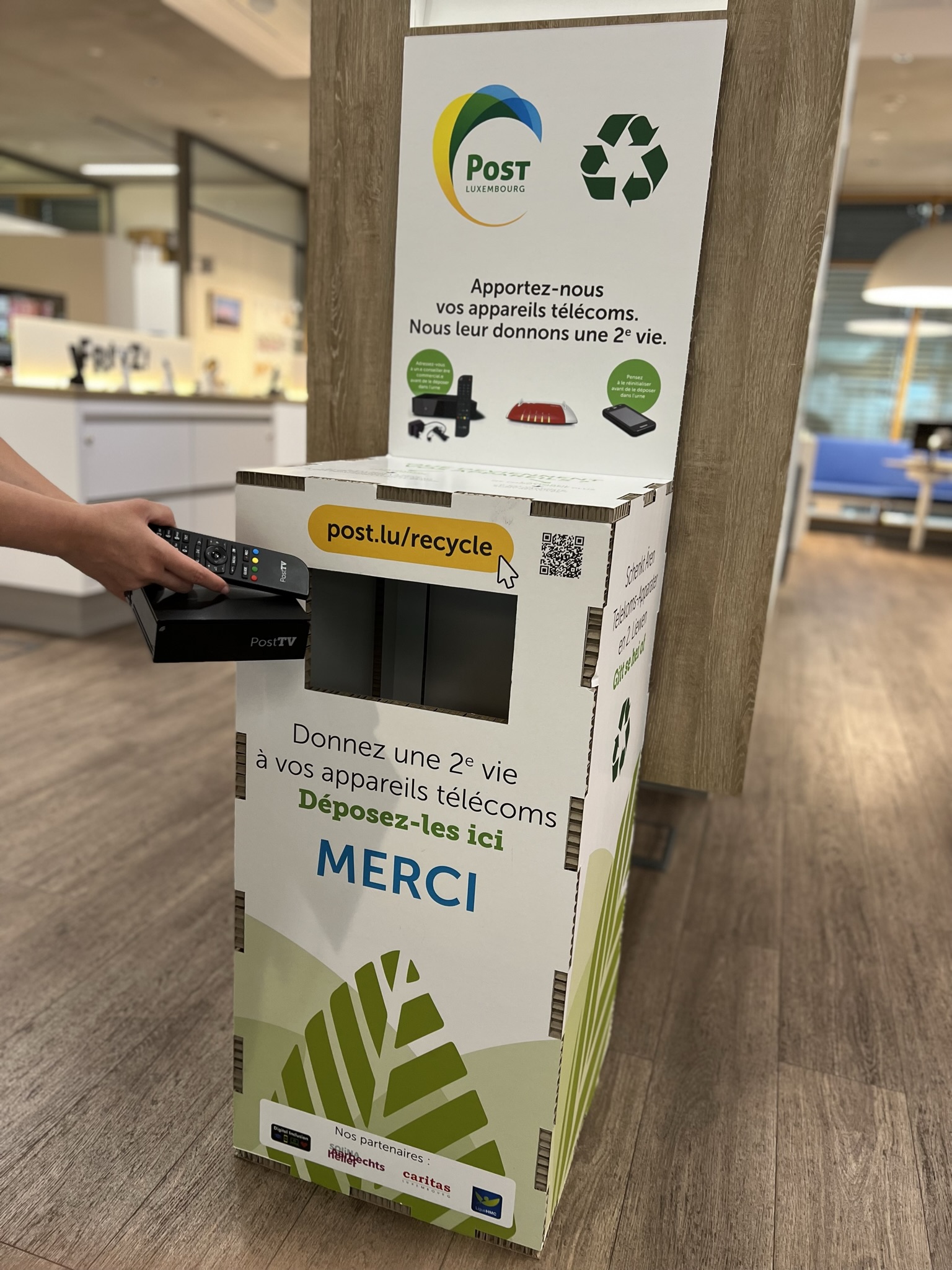 Give new life to your PostTV decoder
Give new life to your device. Once we have reconditioned it, it can be reused.
Discover the service
Give new life to your FRITZ!Box
This means the key parts can be reused to make new devices.
Discover the service
Do you have any other questions?
Call us free of charge on 8002 8004 or +352 2424 8004 for international calls, 24/7.
POST Telecom shops
Find your closest POST Telecom shop.